Jamie and I met through a combination of things, I believe. We met when she tagged my site and then, we exchanged a few emails. And after exchanging a few emails, we started to be fast friends.
Jamie is a really sweet person. I love looking at her dolls. She has grown so much in her dolling style from when we first met. It is fun to see all her dolls from old to new. And, she keeps improving with every doll she does. I love the bright and vibrant colors she uses in her dolls. The dolls themselves, seem to radiant pure hapiness, and it puts a smile on my face whenever I see them. So, now I urge you to pay her site a visit. I know you won't regret it.
Asking and Accepting Dolls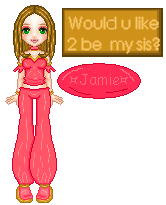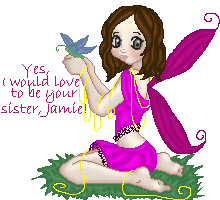 Dolls Adopted from Jamie
Here are a few dolls that I have adopted from Jamie's site. I ask that you please DO NOT adopt them from here. If you would like to adopt them, I strongly encourage you to pay her site a visit and get them from there.